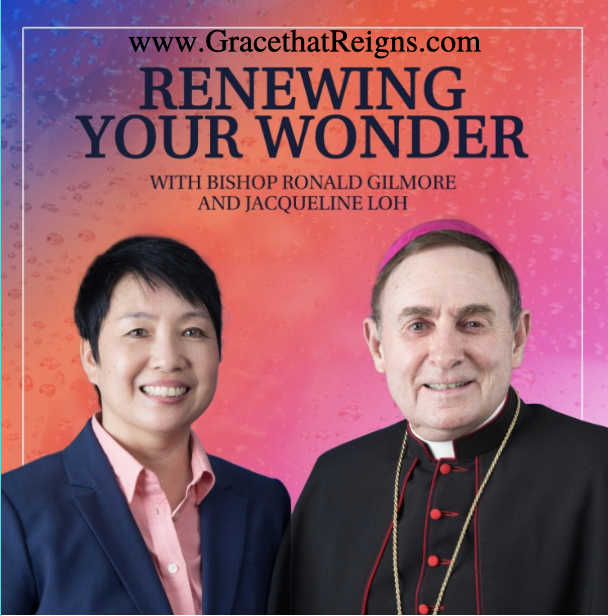 Jacqueline Loh and Bishop Ronald M. Gilmore welcome you to the first episode of Renewing Your Wonder. Jacqueline is from the Archdiocese of Vancouver as well as the founder of Grace that Reigns. Bishop Gilmore is the retired bishop of Dodge City, Kansas, and the spiritual director of Grace that Reigns.
Bishop Gilmore asks Jacqueline how she came up with the name of this ministry, and we get transported back to 2003 to find out the answer. The name Grace that Reigns represents God's grace being present in the world. God gave us his son, and he is present and accessible in this world, to heal us, give us strength for our journeys and give us hope.
Just a couple of years after retiring, Bishop Gilmore joined Grace that Reigns. He explains what he most likes about being part of the ministry, including his fascination of how Jacqueline relates to the Lord. Bishop Gilmore then inquires about what Jacqueline enjoys the most about Grace that Reigns.
Every man and woman born into this world is called to holiness. God hungers for us each day, and this is something that Bishop Gilmore stresses on retreats. He expresses that many of us don't actually know God, but rather just know things about him.
The mission of Grace that Reigns is to renew your sense of wonder. Jacqueline says that their efforts promote moments in which people are drawn out of their own mundaneness towards a journey of hope. Bishop Gilmore adds in how this can be accomplished by breaking down barriers that affect our ability to see ourselves as unique.