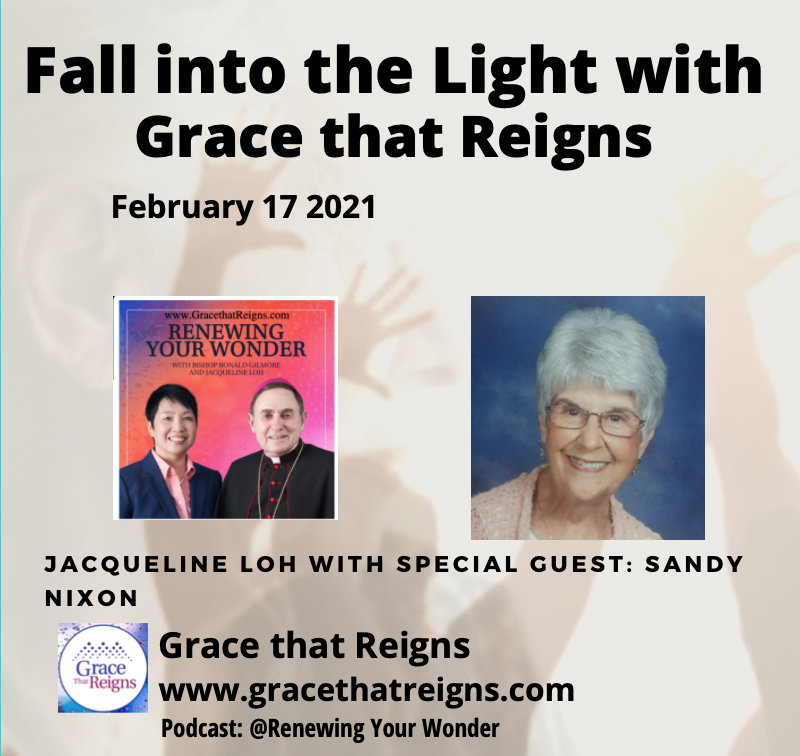 This is Jacqueline Loh from Grace that Reigns, welcome to our Winter Series called: Fall into the Light. Our mission is to help Renew Your Sense of Wonder for God's love for you, through the charisms of healing and words.
There are more than 13.7 million widowed persons in the United States, with over 11 million of these being women. In addition to the emotional stress and sorrow of widowhood, most people are unprepared to deal with the challenges following the death of a spouse. Spiritual Healing makes a great impact in a life that needs to renewed again. Especially the life of a widower. Found out how!
In this testimony, we welcome our special guest, Sandy Nixon from Wichita, Kansas.  Sandy Nixon was married to her husband for 53 wonderful years, when all of a sudden he passed away. Although an optimistic woman by nature, Sandy recounts her experience of receiving a Spiritual Healing at our retreat, that not only brought her immense peace, but many more incredible graces that helped her journey forward.
Find out what Spiritual Healing is, how it happens when received and what the effects are of this amazing grace. 
If you have been enjoying our podcasts, please share them and also, don't forget to donate or follow us. You can find us at www.GracethatReigns.com